Home Loans in Mumbai
Several banks and NBFCs in Mumbai offer home loans at affordable rates of interest and flexible EMI repayment options. Home loans in Mumbai can be availed for up to 30 years, and borrowers can also get certain tax benefits. For the borrower's benefit, Mumbai banks also provide the option of interbank home loan balance transfer to avail lower interest rates. Special home loan plans are available to make housing affordable for rural loan applicants.
Home Loan EMI Calculator
Avoid confusion get it right with BASIC
Break up of Total Payment
Principal Amount

Total Interest
Home Loan Interest Rates in Mumbai
Many aspire to own a home in the bustling metropolis of Mumbai. And to realize the dream of prospective homebuyers, the banks and NBFCs in Mumbai offer accessible and attractive home loan facilities. These financial institutions provide home loans at competitive rates of interest, accommodating EMIs, and extended loan tenure. Home loan rates in Mumbai range from 8% - 17% p.a., offered by several top lenders in the city.
| Basic Bank/NBFC Partner | Name | Max Tenure (in years) | Rate of Interest | Processing Fees (INR) | Contact |
| --- | --- | --- | --- | --- | --- |
| | Navi | 30 | 8.55% - 9.75% | 10,000 | Enquire |
| | PNB Housing Finance Limited | 30 | 8.75% - 11.95% | 10,000 to 0.50% | Enquire |
| | Bajaj Finserv | 30 | 8.60% - 13% | 0.30% to 1% | Enquire |
| | L&T Finance Home Loans | 30 | 8.75% - 10.30% | 10,000 | Enquire |
| | Fedbank Financial Services Limited | 30 | 10.15% - 10.30% | 20,000 | Enquire |
| | IDFC First Bank | 30 | 8.85% - 10.75% | 0.25% to 0.50% | Enquire |
| | Kotak Mahindra Bank | 20 | 8.85% - 9.45% | 10,000 to 0.25% | Enquire |
| | Aavas | 25 | 13.00% - 17% | Min. 1.00% | Enquire |
| | ICICI Bank | 30 | 9.25% - 9.85% | 0.30% | Enquire |
| | HDFC Bank | 30 | 8.70% - 9.75% | 3,540 to 0.25% | Enquire |
Eligibility Criteria for Home Loans in Mumbai
Those applying for a home loan from a bank in Mumbai must adhere to a certain set of criteria to be considered eligible for the loan. Listed below are some of the standard eligibility requirements for availing home loans in Mumbai:
Eligibility Parameters
Salaried Individuals
Self-Employed Individuals
Citizenship
Indian
Indian
Professional Experience
5 years
3 years
Age

Min: 25 years

Max: 70 years

Min: 23 years

Max: 62 years

Monthly Income

Stable income source from at least the previous 5 years

Rs. 30,000 (below 37 years)

Rs. 40,000 (37-45 years)

Rs. 50,000 (Over 45 years)

CIBIL Score
750+
750+
Note: Applicants are encouraged to declare any additional sources of income besides those mentioned in the table above to boost their chances of getting a home loan approval.
All Loan Applicants In Mumbai Must Either Be An Indian Resident, PIO, Or NRI. Exclusively For NRI/PIO Customers, The NRI Home Loan Facility Is Also Available At Some Mumbai Banks.
All Salaried Individuals Should Provide Evidence Of Professional Work Experience Of At Least 3 Years To Be Considered Eligible For The Home Loan Facility. Self-Employed Applicants Must Show Business Continuity For At Least 3 Years.
Home Loans In Mumbai Are Offered To Salaried Professionals, Such As Corporate Or Government Employees), Self-Employed Professionals Like CA/CS Professionals, Doctors, Engineers, Lawyers, Architects, Or Consultants, And Also To Self-Employed Non-Professionals Such As Contractors, Traders, And Commission Agents.
All Applicants Must Have A Credit/CIBIL Score Of At Least 750 (Or Above) To Help Boost Their Chances Of Receiving A Home Loan At A Lower Interest Rate.
Applicants For Home Loans Must Be At Least 21 Years Old At The Time Of Loan Application And Should Not Be More Than 70 Years Old Upon Loan Maturity.
Note:These criteria are subject to variation from one bank to another. It is recommended that you check with the specific bank you are applying to for a home loan for its eligibility requirements.
Top Banks for Home Loans in India
Top NBFCs for Home Loans in India
Home Loan in Top Cities Get a Free Consultation from BASIC Home Loan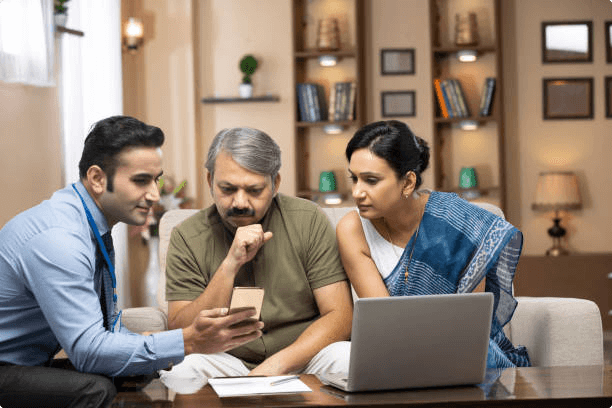 Documents Required for Home Loans in Mumbai
In addition to meeting the specified criteria to apply for a home loan in Mumbai, loan applicants must also submit a set of defined documents to the bank at the time of application. While each bank may have a different list of documents required for submission, some standard documents that applicants must be ready with at the time of loan application are mentioned below for your reference:
1. For Salaried Loan Applicants
Bank statement to show previous records of repayment
Proof of own contribution
KYC documents such as voter ID, driving license, PAN card, Aadhaar card, and Passport
Contract of employment
Proof of income which includes bank statement with salary credit for the previous 6 months, salary slips of the previous 3 months, the latest Form
16/ITR, and the last 3 years IT returns
A cheque for the processing fee for the loan application
Documents of property
2. For Self-Employed Loan Applicants
Savings account statement of previous 6 months (in case of individual applicant) and current account statement (in case of business entity)
Articles of Association and Memorandum of the Company
ITR with computation of income for previous 3 years as proof of income
Latest Form 26AS
Profit & Loss account statement and Balance Sheet for previous 3 years
Business profile of the company
| Type of Document Required | Examples of Documents that can be Submitted |
| --- | --- |
| Proof Of Residency | Aadhaar Card, Valid Passport |
| Proof Of Income | Bank Passbook, Bank statement, Last 3 years IT Return |
| Proof Of Age | PAN Card, Voter ID, Birth Certificate, Registration Certificate Of Establishment |
| Proof Of Employment | Certified Letter from Employee/Company Memorandum  |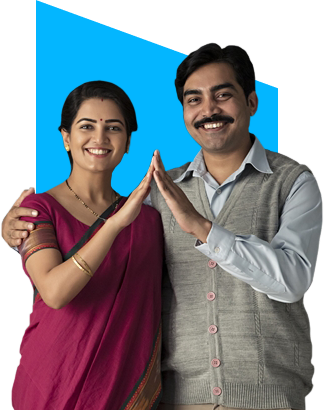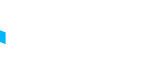 Get Home Loan Starting at 8.5% Interest
Rate from BASIC Home Loan
Home Loan Options Available in Mumbai
Different banks and NBFCs in Mumbai offer different types of home loan options to their varied customer base in the city. Loans are offered based on the customer's requirements and earning potential. Listed below are the 5 key types of home loan options offered by Mumbai banks and NBFCs to prospective borrowers:
| Type of Document Required | The Object of the Loan |
| --- | --- |
| Home Loan | To buy residential housing such as flat/apartment |
| House Construction Loan | To build a house |
| Home Loan Top-Ups | To seek additional loan over and above the existing loan amount |
| NRI Home Loan | For NRIs residing outside India but interested in buying/building residential property in India |
| Home Improvement Loan | To undertake renovation/upgrades in the house, such as wiring, painting, and other activities for improving the living space |
Note:The options tabulated above are the most popular loan options availed of by most customers. Please check with your specific bank for other home loan options that they offer.
Best Bank and NBFCs for Home Loans in Mumbai
Mumbai has a wide array of options in banking. Several top lenders co-exist to offer the utmost banking convenience to customers in the city. Listed below are the top 5 names of banks and housing finance companies in Mumbai (partnered with BASIC Home Loan) with their respective contact details:
FAQs
Mumbai banks and NBFCs offer home loans at a competitive interest range of 8% - 12.5% p.a.

Different banks and NBFCs may have different salary requirements for applicants; however, most Mumbai banks need salaried home loan applicants to have a minimum monthly income of Rs. 15,000.

Most banks in Mumbai charge applicants a non-refundable fee for processing their home loan application. Besides this, banks may charge administrative charges, legal and technical charges, appraisal fees and more. The types of charges as well as the amount, differ from bank to bank.

The Indian government provides borrowers with tax rebates of up to Rs. 5 lakhs. This includes up to Rs. 1.5 lakh deduction on repayment of principal amount as per Section 80C of the Income Tax Act, and up to Rs. 2 lakh deduction on payment of interest as defined by Section 24(b) of the ITA.

Yes, several banks and NBFCs in Mumbai allow NRIs to avail of home loans to facilitate purchasing or constructing a residential property in India at a fairly competitive rate of interest.